Nashville Food Guide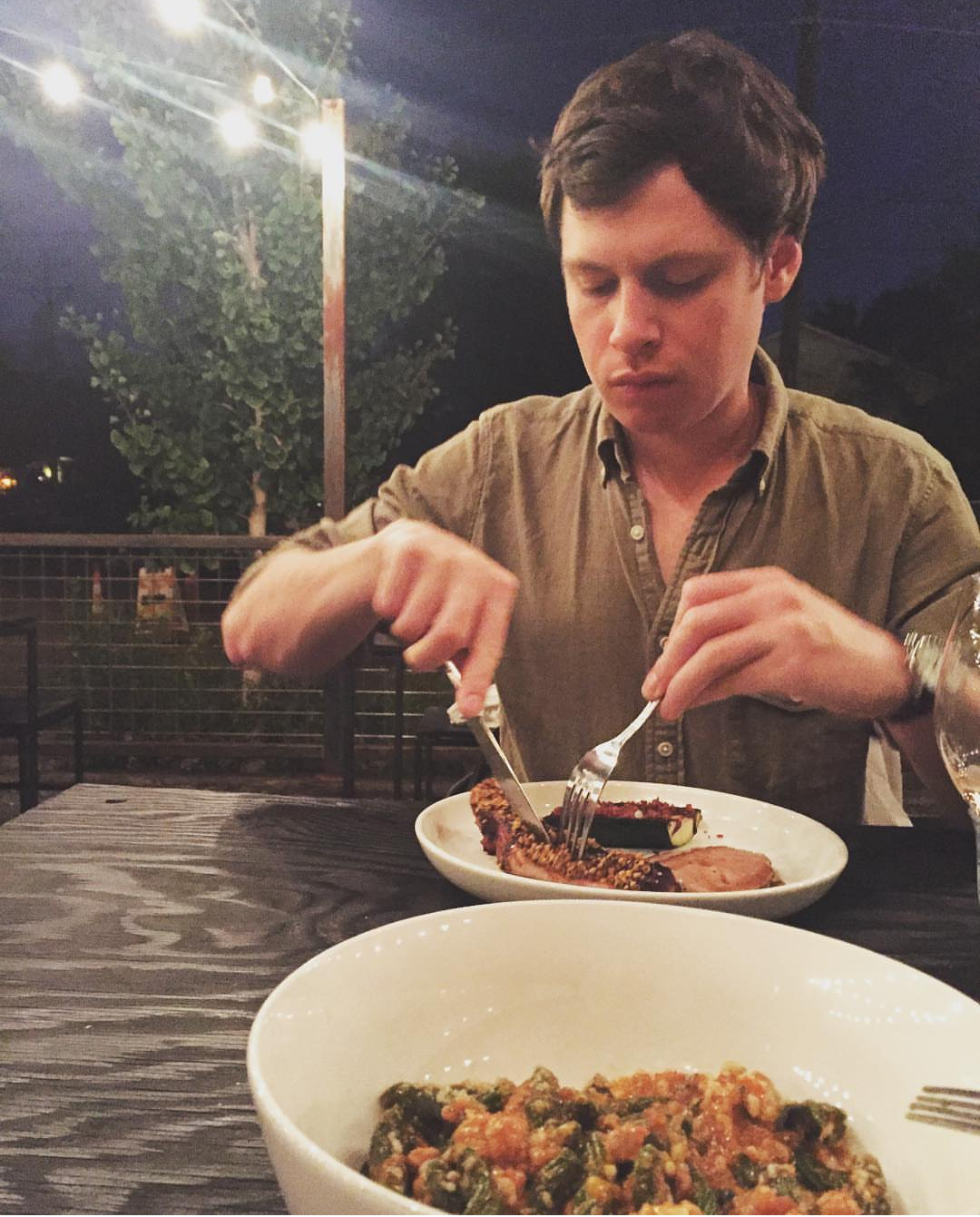 NASHVILLE FOOD & BAR GUIDE
A very in depth guide of our favorite spots in Nashville, organized by Neighborhoods.
My husband Theron is a Nashville (well, Pegram) native who went to Belmont University. Before we started dating, he went out to eat for almost literally every meal of the day. These were also in the days before Nashville was as "cool" as it is now.
I moved to Nashville in the middle of 2013, just at the start of the growth of it's "cool" factor. There was a mixture between Theron wanting to show me all of his usual old Nashville staples, and us wanting to try out all the new places. We dined out (and still do) far more than we should have, but I wouldn't trade it for the world!
These are simply our favorite places we've tried or frequent. They're not necessarily all new or hip – though many of them are – but they're all great! Trying to bring you the Nashville experience as we knew it! From fancy upscale cocktails and tapas to hole in the wall pizza delivery, I've tried to cover it all.
THE GUIDE
Great local chains:
Hattie B's (West Nashville, Midtown, 8th Ave) $$ hot chicken
Bolton's (8th Ave, East Nashville) $ hot chicken *theron's favorite
Prince's (North Nashville, Nolensville Road) $ hot chicken *my favorite
Edley's (East Nashville, 12th South, Sylvan Park) $$ barbeque
Five Daughter's Donuts (12th South, East Nashville, Franklin) $$ donuts – layered deliciously excessive donuts. Paleo options also!
McDougal's Chicken (West Nashville, Hillsboro) $$ chicken fingers – gluten free options!
Portland Brew (12th South, East Nashville) $$ coffee – my favorite in town
ML Rose (8th Ave, West Nashville, near Downtown) $$ bar food & burgers/fries – the best ranch dressing in the history of the world.
Vui's Kitchen (Germantown, Berry Hill, East Nashville) $$ healthy vietnamese
5 Points Pizza (Charlotte Ave, East Nashville) $ pizza: Theron's favorite pizza on the planet. It is delicious and amazing, but they don't have a gluten free option.
Corner Pub (All over the place, seriously) good bar food
Belmont/Hillsboro/Edgehill:
This neighborhood is south of Vanderbilt University and surrounds the Belmont University area. It is very walkable and the houses are dreamy. Theron lived in this neighborhood for 9 years – it is very near and dear to our hearts. It includes Hillsboro Village as well – a great spot to shop local boutiques, see a film at The Belcourt, and grab a bite to eat.
Bars:

The Villager $ dive bar: Smokey dive bar with darts. If it's your birthday, you get beer in a dog bowl. It's pretty great.
Double Dog's $$ sports bar
Old Glory $$ cocktails: This place doesn't have a sign – just look for the gold triangle. The cocktails are great and the atmosphere is awesome. This is more of an early-in-the-night place in my opinion, as it gets a little club-y later in the evening.

Restaurants:

International Market $ thai: A family run cafeteria-style restaurant with the BEST cheap eats in the city. Vegetarian friendly. They also had a kitchen menu. Don't miss out on the dumplings! ** This restaurant has since closed which broke our hearts in pieces, but I couldn't bare to remove it from my list.
PM $$ sushi, burgers: Asian fusion run by the son of the Intl Market family. The veggie burger is my favorite burger around. They also offer a late night "Hotel Lobby" menu with cheaper eats and drinks for when you're feeling snacky after the bars.
Bongo Java $$ coffee, american: Ah, Bongo. The coffee isn't my favorite, the food has gotten more expensive, but it is a Belmont University staple and the Bongo Basic forever has my heart. Two eggs, hashbrowns, toast, and a coffee for $7 (I think? That number changes a lot lately).
Fido $$ coffee, american. Bongo's more sophisticated older brother.
Chago's Cantina $$ mexican: They have great vegetarian options.
The Grilled Cheeserie $$ sandwiches: They have great Gluten Free bread!
Taco Mamacita $$ tacos, margaritas: I actually worked here for a while and couldn't suggest it more. Great group atmosphere – they have tasty margaritas and eclectic taco choices. Although it is a Mexican restaurant, their California Cobb Salad is my favorite unhealthy salad maybe ever. Pro tip: order the Royale taco with queso instead of beans.
Barcelona Wine Bar $$$ tapas and wine
Proper Bagel $$$$$$$$$$$ breakfast sandwiches: I hesitated to put this place on the list because there is always a line and it is excessively expensive for bagels (we're talking like, $15 bagel with lox and capers…). That being said, the food is pretty great if you're willing to wait and pay big bucks!
Germantown/North Nashville:
Newly hip and trendy, there are a lot of really great upscale restaurants in Germantown. North Nashville is beginning to see more of an artists scene with Buchanan Street now up and coming.
Upscale Restaurants:

Rolf & Daughters $$$ house made pasta: For a long time this was our favorite spot in the whole city. If there is anything that is worth eating things that upset my stomach, its R&D. Their menu rotates seasonally except for a few staples and the cocktails are always on point. I regularly dream of the sourdough bread with seaweed butter and chunky sea salt. The Garganelli Verde also cannot be missed!
5th & Taylor $$$ southern/american
Henrietta Red $$$ southern/seafood
Tailor $$$$ set menu fixed price: voted top 10 best new restaurants by Bon Appetit in 2019!

Casual Restaurants:

Monell's $$ meat-n-three: A Nashville staple! Don't miss the family style Sunday brunch. You will leave fuller than you can ever imagine.
Butchertown Hall $$ meats and cocktails: Has a great patio.
Slim & Huskies $$ pizza
Bearded Iris Brewing $ beer
Jack Brown's $ bar and burgers: This was one of the best hamburgers I've ever had. It's very plain and they have next to zero toppings except bacon, cheese, and jalapenos, but it is such a quality burger it's okay! They're small, so definitely get some fries. Maybe even also a grilled cheese…
Midtown/Gulch:
I hesitated to put the Gulch on the list because I honestly avoid it most of the time, but these couldn't be left out!
Bars/Venue:

Station Inn $ bluegrass music venue
Rudy's Jazz Room $$ jazz bar
Patterson House $$ cocktails: This speak-easy feeling bar is my favorite cocktail bar ever! The dark ambiance and beautiful walls and rows of books makes you feel like you've been transported to olden times. The drinks are all $13 (last I checked…) but they are all incredible. Pro-top: ask for the Black Walnut Old Fashioned if you like bourbon. So so good.
Tavern $$ cocktails, bar food: This is technically a restaurant, but I'm grouping it under bar because I find their cocktails and drinks to be much better than the actual food selections.
Henley $$ cocktails, dinner

Restaurants:

Two Boots Pizza $ pizza: Gluten free crust options as well as vegan!
JJ's Market & Cafe $$ coffee shop
Samurai $$ sushi: Our favorite sushi in the city.
Thai Esane $$ thai:
Mockingbird $$ american/southern: Same group as Chauhan and Tansuo below.
Otaku Ramen $$ ramen
Sunda $$$ asian and sushi
Chauhan Ale House $$$ indian cuisine: Quickly became a new favorite of ours. Don't miss the chicken tandoori poutine appetizer. If you have food sensitivities, call ahead and let them know and they will cook off menu for you.
Tansuo $$$ chinese cuisine: Run by the same group as Chauhan – delicious upscale Chinese food
The Chef and I $$$ fancy american: sit at the kitchen bar and you can watch the chefs work their magic. Really great food, ever changing menu
Kayne Prime $$$$ steakhouse. Best meal of 2019. Also the most expensive.
East Nashville/5 Points:
This area is closer to downtown, and includes the Eastland Street area as well. I lived in this area for a year and a half and loved it a lot.
Bars:

The 5 Spot $: Don't miss Motown Mondays!
Dino's $: Dive bar turned hip & cool (though still has the divey feel), their burgers are amazing
Duke's $: See above, but go for a sandwich
Smith & Lentz $: Great brewery, free popcorn, ping pong tables

Restaurants:

Mas Tacos $ tacos: Handmade corn tortillas, soups, fried plantains, delicious drinks (alcoholic & non), the list goes on. There is almost always a long line, but it is usually pretty worth it. Don't miss the iced horchata with coffee.
Nashville Biscuit House $ breakfast: Best hangover cure in all the land. Super cheap greasy breakfast.
Sweet 16th Bakery $ bakery and breakfast sammies: best cheddar and egg biscuit you'll ever have in your life.
Hunter's Station $-$$ food court
Sky Blue Cafe $$ brunch. Always has a long wait, but always worth waiting.
High Garden Tea Shop $$ tea/kombucha bar: A huge tea shop with a kombucha bar in the back. Very cool vibes.
Marche $$ brunch
Butcher & Bee $$$ small plates
Two Ten Jack $$$ ramen/japanese
East Nashville/Inglewood:
Northern East Nashville – closer to Madison. This neighborhood feels more like the suburbs but in a good way. I also lived here, after my 5 Points area stint, and the peace and quiet was amazing. You are pretty much 25 minutes from everything, though.
Bars:

Mickey's $ divey bar: I won't exactly call this a dive bar because it has gotten pretty popular, but it still sorta has that feel. Mickey's has darts, pool, fuse-ball, and a back patio that is great on a warm night. Full bar and cheap beer.
Village Pub $$: A bit nicer of a place, they have good pretzel bread sandwiches and a great variety of "mules" as well as an extensive bourbon/whiskey list.

Restaurants:

El Jaliciense $ mexican: Really great authentic tacos
Sip Cafe $ coffee and ice cream
El Fuego $$ mexican: SUCH good Mexican food. The best on this side of town, for sure!
Mitchell's Deli $$ sandwiches: Best. Sandwiches. Ever. They also have great gluten free bread options.
Cafe Roze $$$ healthy, american: It's definitely expensive but it is really delicious. Cutesy instagram vibes and good drinks!
The Nations/Sylvan Park:
We live here and LOVE it! So much has popped up lately it's hard to keep up, but here are our favorites.
Bars:

The Centennial $: Great sandwiches (limited selection and not many gluten free/vegetarian options, though), full bar and great beer. They have games in the backyard and our favorite trivia on Wednesday nights.
Neighbor's $: just a great normal ol' bar. They usually have some decent live music too!
The Nation's Bar $$: This was a Theron pick. I could take it or leave it, but he says it is one of his favorite burgers.
Fat Bottom Brewery $$: A local brewery that also has a full bar, wine and beer on tap, a huge event space, and a really nice beer garden.
Southern Grist $$ brewery

Restaurants:

51st Deli $ mexican food market: a little market with a food counter, they have a little bit of everything. The breakfast burrito bowl is deliciously greasy.
Bobbie's Dairy Dip $ ice cream and burgers: A Nashville staple!
Coco's Italian Market $$ italian: great pizza, pasta, salads, you name it. They also have a fun bocce ball court and a market.
Star Bagel $$ bagels, sandwiches: Great bagel sandwiches, normal sandwiches, and salads! They have gluten free bread as well.
Headquarters $$ coffee
51st North Taproom $$ american We eat here a LOT.
The Cafe at Thistle Farms $$ cafe, healthy options: I love Thistle Farms! They recently renovated and changed things up a bit, but they still serve the best drinks and healthier breakfast options in this area of town. Thistle Farms is also a really great place to support. You can read more about them here.
Chaatable $$($?) indian street food: Another child of the Chauhan family!
Cafe Nonna $$$ italian: best Italian in the whole city. One of the best meals of 2019, and this place is OLD Nashville. Quaint and delicious.
Answer $$$ american: The pasta here was so good. So was the panzanella salad!
West Nashville/Bellevue:
Though definitely the 'burbs, this (large) area of town still has a lot to offer. West Nashville has some really amazing authentic Asian food, while Bellevue has some great breakfast spots. I grew up visiting these areas during camp, so places like the Loveless have a special place in my heart.
Favorite West Nashville Asian Restaurants:

Miss Saigon $ vietnamese
Korea House $$ korean: One of my all time favorite restaurants
Lucky Bamboo $$ chinese, dim sum, hot pot
Ninki's $$ sushi
Golden Thai $$ thai

Favorite Bellevue Restaurants:

Loveless Cafe $$ breakfast, southern: A Nashville classic without a doubt!
City Limits $$ cafe
Le Peep $$ brunch, breakfast
Brewhouse 100 $$ bar food
12th South:
When I first moved to Nashville I lived in this neighborhood and I loved it. There is lots going on, but as I became more familiar with the city, I grew less and less infatuated with this very busy and hip street. Many of the favorite local chains are along 12th South, like Portland Brew, Edley's, and 5 Daughters, but otherwise, I don't come here as often as I used to.
Other restaurants:

12th South Taproom $$ bar, american food: Great patio, lots of beers (especially local ones), and some wine – the Taproom is a fun spot on a beautiful day. The food is decent, I haven't had anything I don't like, but it is a little on the expensive side. It's a fun place to chill for a while with friends and people watch.
Mafioza's $$ pizza: they have a great 2-for-1 deal on Tuesdays and good gluten free options!
Mill Creek Brewing $$ burgers
Burger Up $$$ burgers: expensive, but super delicious. Their kale salad with chicken is one of my favorite salads in the city!
8th Ave/Berry Hill:
Another area with a lot going on now, 8th Ave is sort of booming and I couldn't keep up. There are many newer places that we either tried and didn't like or haven't made to yet, but these are our favorite old time spots from the area.
Bar:

Melrose Billiards (aka "smellrose") $ pool hall: A pool hall that is recently under new ownership. It's in the basement of a building, and used to be very grungy, smoky, and cheap as hell. I think it has changed a little but we still like it.
Tennessee Brew Works $$ brewery: Good beer, good food, and a great second story deck!

Restaurants:

Dolce Vita $ pizza: Okay, people will laugh at me that this is on the list. It is a pizza place in a Kroger strip mall. But they deliver until like 4am and it is honestly just so good it can't be passed up on my list. Get it with half red sauce half pesto and you won't be disappointed.
Baja Burrito $ burritos: I get the salad every time and load up on all the goodies. Their corn salsa is amazing, as is their pineapple salsa. Really everything is good. Closed on Sundays though!
Arnold's Country Kitchen $$ meat-n-three: Another Nashville staple.
Sunflower Cafe $$ vegan, healthy: Honestly, this place is hit or miss for me. I've had some really delicious items and some really just "okay" items, but if you're looking for healthy vegan food, it is my favorite in the city.
Sam & Zoe's $$ coffee, breakfast, sandwiches: They have great salads and gluten free bread options as well!
Smiling Elephant $$ thai: This Thai restaurant is a little different than the others. Their options are much healthier and a little different, in my opinion, than standard Thai food you may find elsewhere. That being said, it is very delicious and fresh!
8th & Roast $$ coffee
Wedgewood Houston
This is a newer (sort of) up and coming neighborhood that we honestly didn't explore too much. I can't say enough about Dozen Bakery, though – it was a fast favorite when I first tried it out!
Bars:

Tin Dog Tavern $ dive-y bar: I won't exactly call this a dive bar but it has the feel.
Bastion $$ cocktails: I hesitated on this one because sometimes it has a snoody feel, but the cocktails are good and the ambiance is pretty neat.
Flamingo Cocktail Club$$ cocktails: Somewhat of a tiki bar, somewhat of a club – it's a little loud, but it's a great place for interesting drinks!

Restaurants:

Baked on 8th $ sweet treats: This is where I work! It won best Bakery, Cakes, and Desserts from the Nashville Scene in 2019. It's delicious and I'm very proud to work there 🙂
Gabby's Burgers $ burgers
Clawsons Pub $ sandwiches
Humphrey's Street Coffee Shop $ coffee shop: they only have a few pastry selections so it's really more of a coffee shop than a place to eat, but it's my favorite spot to sit and work or read!
Dozen Bakery $$ sandwiches, bakery, coffee: I love this place dearly. It has big windows so you can see the baking happening. Their breads are amazing and the food hasn't let me down yet.
Hemingway's Hideaway $$$ cocktails, American: really great atmosphere, great drinks, and an interesting menu! All about the English Majors here.
Woodbine/South Nashville:
I worked in South Nashville for 4 years – where the only food options anywhere near my office were authentic ethnic food or fast food. Naturally, I tried to try them all!
Woodbine Area:

La Hacienda $ mexican
Gojo Ethiopian $ ethiopian
Twin Kegs $ bar, bar food
Red Bicycle Coffee $$ coffee, crepes

Nolensville Road & South Nashville:

Las Cazuelas $ mexican
Las Americas $ latin american: Delicious pupusas!
Tacos y Mariscos El Amigo $ tacos: Authentic and delicious – it is in an old gas station converted to a restaurant!
El Tapitio #2 $ tacos
Thai Papaya $ thai: More delicious Thai, but much cheaper than Siam
Taj Indian $$ indian buffet
Plaza Mariachi $-$$$ hispanic food court: This recently opened and it has been a huge hit! Lots of different restaurants and small shops to get some great authentic hispanic foods of all sorts.
Siam Cafe $$ thai: Authentic, legit, delicious, amazing Thai
Subculture $$ sandwiches & salads
---
---